LLF named Peterborough's "Favourite Law Firm" once again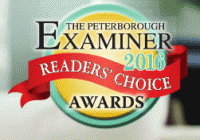 Our firm has once again been voted as Peterborough's favourite law firm in The Peterborough Examiner's Annual Reader's Choice Awards for 2016.
"The lawyers and staff at LLF lawyers are most appreciative of this recognition. We look forward to continuing our valued client relationships. "
LLF is Peterborough's full-service law firm available to help you with a variety of legal issues, such as estate planning, buying and selling real-estate, civil litigation, family and corporate governance.
To find more information about our wide variety of services, please visit Our Expertise page.
Posted in News