LLF qualifies as an Employee Recommended Workplace for Total Health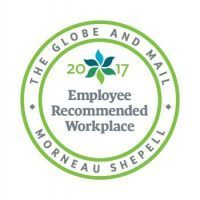 LLF has met the qualifying standard to use the Employee Recommended Workplace badge for 2017.
The Globe and Mail and Morneau Shepell have partnered to create the Employee Recommended Workplace Award in recognition of organizations that achieve the highest standards in the health, engagement and productivity of their employees.
Organizations with the highest average scores in each category win an award, and will be recognized nationally in The Globe and Mail. Categories will be based on criteria such as size, industry and geography.
Winners of the Award will be announced at a ceremony on May 2, 2017.
Posted in Uncategorized